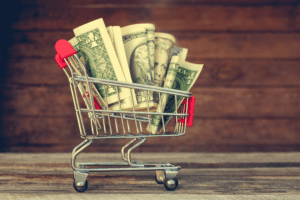 A lot of financial planning and consideration goes into purchasing a home. While the most obvious monetary consideration is how much a borrower might need to save for a down payment, it is also important to plan ahead for other closing costs they have to pay. To ensure you aren't caught off guard when it's time to close on your new home, you need to understand what closing costs might consist of and how much you should budget for. People are sometimes surprised by closing costs because they don't know what they are, so let's start by answering the first and most important question:
What Are Closing Costs?
According to Bankrate: "Closing costs are the fees and expenses you must pay before becoming the legal owner of a house, condo or townhome . . . Closing costs vary depending on the purchase price of the home and how it's being financed . . ."
In other words, your closing costs are a handful of additional fees and payments, from multiple involved parties, involved with your transaction. According to Freddie Mac, they can vary by location and situation, but closing costs typically include:
Government recording costs
Appraisal fees
Credit report fees
Lender origination fees
Title services
Tax service fees
Survey fees
Attorney fees
Underwriting Fees
How Much Will You Need To Budget for Closing Costs?
Understanding what closing costs include is an important step 1, but knowing how much money you'll need to cover them is equally as important. According to the Freddie Mac article mentioned above, the costs to close are typically between 2% and 5% of the total purchase price of your home. With that in mind, here's an example of how you can estimate what you'll need to cover your closing costs.
Let's say you find a home you want to purchase for $400,000. Based on the 2-5% Freddie Mac estimate, your closing fees could be between roughly $8,000 and $20,000. Keep in mind, if you're shopping for homes above or below this price range, your closing costs would potentially be higher or lower.
What's the Best Way To Make Sure You're Prepared for Closing?
Freddie Mac provides great advice for homebuyers, saying:
"As you start your homebuying journey, take the time to get a sense of all costs involved – from your down payment to closing costs."
Always be sure that you're working with a team of trusted mortgage and real estate professionals to understand exactly how much you'll need to budget for closing costs. Together your expert team can answer any questions you might have and help you achieve homeownership!